Date/Time
Date(s) - 02/10/2014
6:00 pm - 8:30 pm
Location
Ernst & Young Offices
Categories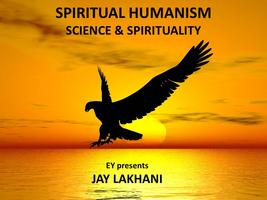 SPIRITUAL HUMANISM!
Ernst & Young SAN is delighted to invite you to attend the talk: "Science and Spirituality" given by Jay Lakhani.
---
Are we just the extension of the material kingdom as Richard Dawkins suggests, or is there more to us than meets the eye? Quantum Physics is now clearly pointing to a non-material foundation to the universe and our being. This talk challenges the paradigm of materialism.
The talk offers a deeper understanding of "who we really are" and "what is the fabric of reality", thus increasing our self-awareness and motivating our actions in a more purposeful manner. Such insight can enhance our personal and professional lives! It is a rare opportunity to have such a speaker attend EY, therefore we strongly urge you not to miss the opportunity of attending this talk!
---
Speaker
Jay Lakhani is a theoretical physicist who has explored the findings at the cutting edge of modern physics to see how they relate to ideas of spirituality. Whilst studying Physics under Sir Richard Penrose his attention was drawn to the esoteric teachings of spirituality that he sees as indicating a deeper dimension to reality, which is non-physical.
An excellent public speaker who often participates in media presentations (for example: TED Talks, The Guardian, BBC) and in delivering lectures and talks to the UK's leading universities and schools.
Jay Lakhani has dedicated his life to bridging the gap between Science and Spirituality
 "Human beings are trying to come to terms with the world they inhabit. Both the physical world as well as their inner make-up dictates the way they see themselves and behave. This is what we mean by addressing and resolving the Human Condition" – Jay Lakhani
Mr Lakhani's talks consistently attract a large number of attendees, many in senior positions, from a variety of firms, including the top consulting, advisory and legal firms.
---
Places are allocated on a first come first served basis, we strongly advise those who wish to experience this talk, book now to avoid disappointment.
The itinerary for the evening will be as follows:
18:00 – 18:30 – Registration & Refreshments
18:30 – 19:30 – Introduction, Presentation, Q&A
19:30 – 20:15 – Snacks & Networking
Please feel free to extend this invitation to your networks and register for FREE here.